Many years ago, BC (before children) we visited Bavaria with our friends. One of our stops was the ski jumping hill in Oberstdorf as our host was a big ski jumping fan and the rest of us were fans of pretty Alp views. We took the lift up to the top of the hill and to get down we left the arena and ran down in the green hills below the snow covered Alps, pretending to be Maria in The Sound of Music. This activity has since been referred to as "hills are alive"-ing, from the intro of said movie.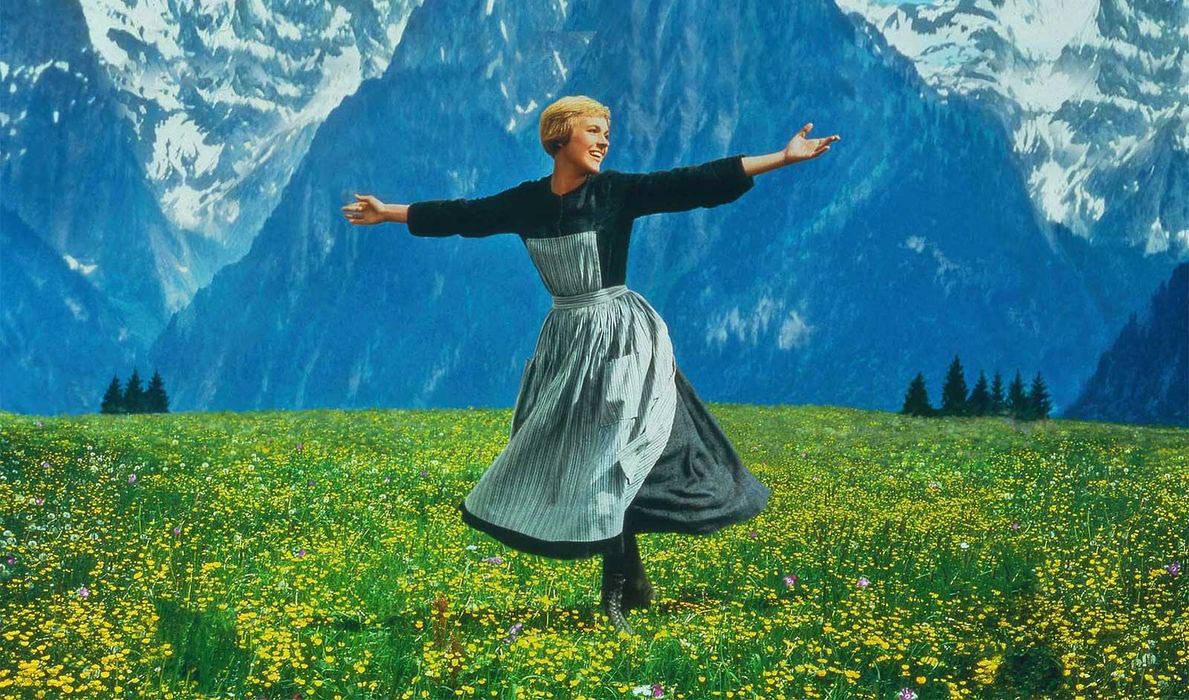 These clothes are not particularly related to the Sound of Music, they are not made of curtains, but the pattern company makes me sing "Do, a deer, a female deer". Another song set among the grass hills of the Alps.
I've been eyeing the Aubépine pattern for quite a while, switching between thinking it was a perfectly casual day dress and worrying that it would make me look pregnant with its empire waist. Last Black Friday I took the plunge and paired it up with some viscose from Stoff och Stil. The big challenge of this pattern is that it is to be sewn in a lightweight fabric, so you need to keep track of it, especially when sewing the tucks on the front bodice. I did mess up a little and the fabric waist seam ended up bigger than the lining waist seam. In the end I had to take in the fabric, which created a few tucks, but those are hidden in the drawstring.
I cut a straight size 42, based on my measurements, and added 4 cm of length between the tucks and the dart. And, since D&D drafts for an X-figure, it is very flattering on me. No sign of pregnancy anywhere. There shouldn't be. I'm glad I decided to make my first version in a print, since it hides some of the mistakes in the tucks and the above mentioned waist seam snafu. For future version I will add interfacing to the buttonholes for the drawstring to reinforce them, they feel really flimsy.
High on a D&D success, and wanting to sew something a bit simpler, I revisited the Datura pattern. I have made one before which was, well I'll be honest, vanity sized. A straight 42, with 5 cm length added, split by the yoke and bodice and ta-da! It fits really well. The fabric is a remnant from tyg.se and I added some red buttons for a pop in the back. This pattern is a simple woven tank, that I can imagine being good for scrap-busting. There are two necklines, one being this small collar, the other a triangle cut-out, it would work just as well without the collar as a simple woven tank. Maybe it would also work with a closed back, to save even more fabric, but I haven't figured out that option yet.
Anyway, Deer and Doe are delivering for me, and with quite a few of their patterns in my possession, I might revisit some of them again. Airelle, I'm looking at you. Well, I have one little beef with them. They draft in SI units (aka. metric), which is the measurements used in the Fremch instructions. In the English ones it's imperial measurements (aka. inches and such) (and not always written) so I need to go back and forth between the two. Embrace the SI system!