2020 was quite the unusual year, I think everyone can agree to that. It was memorable, albeit for all the wrong reason. But while many of my plans were cancelled (travelling, Green Day, Trevor Noah, just seeing friends and family), I can't say that my year was bad. It certainly wasn't good or fun, but I would say more boring than bad.
There was one good thing to come out of 2020 though, which was my discovering and falling in love with Schitt's Creek! I AM OBSESSED WITH THIS!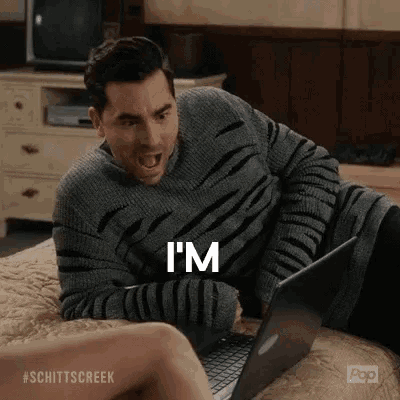 I had heard of the show, but I couldn't access it anywhere, until like September, when my local carrier started streaming it. It took a while, but I fell in love! And keep on falling with every episode passing. It has humor, both subtle and not so subtle, and a lot of heart. I'm at the point where I'm jealous of those that haven't seen it since they have so much fun ahead of them.
So, when making fashion inspired by this lovely, funny, heart-warming show, I didn't turn to David and his amazing knits, nor did I look to Alexis' boho chic wardrobe. I emulated Stevie. Unintentionally, but that's how it turned out and I guess Stevie's style is the most practical for me in my everyday life, especially now during work from home.
Also, coming of a stint of shirt making, I wanted to make something quick and easy, something I knew I needed and could be finished quickly. A bonus was that this was pure scrap busting, using my best pattern Tetris skills to eke out the various pieces, for the white fabric I had to sacrifice the curved hem. A couple of years ago I sewed a pair of leggings that I rarely wore – they became the light grey sleeves on the white/grey version. The dark grey is a leftover from a dress I sewed in 2019, which became my Christmas dress, 2 years running. Since I bought all of these fabrics in bulk at Ohlssons Tyger, I have no idea of the contents. I think the white and light grey are cotton/elastan, the dark grey might have some polyester and/or viscose in it. I haven't done a burn test (do those even work on elastane fabrics?).
Just drop me off at Rose Apothecary so I can be BFF with Patrick and David. While I relate to many aspects of Stevie herself, I think my everyday commentary on life is more in line with Patrick's. But I'm not making myself (yet another) light blue shirt. (Spoiler alert, I made a dark blue shirt to end 2020)
Now, the only question is, do I write something Schitt's Creek related on the white top and, more importantly, what quote would that be?
Outfit details:
Tops: Hey June Handmade Lane Raglan t-shirts in mystery fabrics
Shirt: NL 6407 in plaid cotton
Trousers: Pinda Pants by Waffle patterns in stretch denim